home I index I latest I glossary I introductions I e-mail I about this site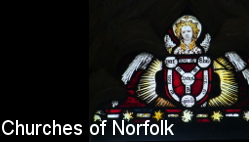 St Mary, Whinburgh
Read the captions by hovering over the images, and click on them to see them enlarged.

St Mary, Whinburgh

Whinburgh church looks more interesting than it probably is. However, I am in no position to judge, because I have yet to find the keyholder in. Most Norfolk churches are open every day, of course.

The setting is superb, a tree-filled graveyard along a narrow lane. This is one of East Anglia's south towers, but it is truncated and capped in a pleasing way. The tracery of the east window is very elegant. Pevsner says that the church is redundant, but I do not think that this can be right, because the church noticeboard suggested a certain amount of activity.

And Peter Stephens has been inside, and his photographs below are those of a working church. The dark wood and the Victorian banner may not be to everyone's taste, but I can see no reason for the building not to be open to passers-by, especially as this is such a beautiful part of Norfolk.

Beside the church is a huge house with vast, Epsteinesque reliefs flanking the entrance. I liked them alot, but they are rather startling in such a rural setting.
Simon Knott, March 2008

Amazon commission helps cover the running costs of this site.

home I index I latest I introductions I e-mail I about this site I glossary
Norwich I ruined churches I desktop backgrounds I round tower churches
links I small print I www.simonknott.co.uk I www.suffolkchurches.co.uk