home I index I latest I glossary I introductions I e-mail I about this site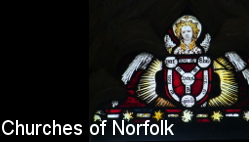 St Michael, Ryston
Read the captions by hovering over the images, and click on them to see them enlarged.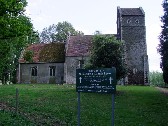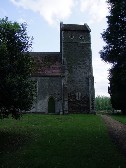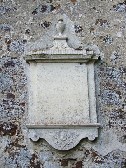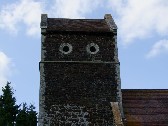 St Michael, Ryston

This severe carstone building sits on an ancient churchyard mound on the edge of the park of Ryston Hall in the suburbs of Downham Market. The views to the south of the church are of open parkland with flocks of sheep drifting slowly across them. The faux-Saxon saddleback tower rises loftily over them, appearing bigger than it actually is. The architect was Walter Lawrie, and it was built in 1858 at the height of the Ecclesiological Movement's enthusiasm for liturgically correct 14th Century gothic, so it must have caused some mild surprise and comment. Perhaps it replaced something similar that was here before. The enthusiastic restoration of the rest of the building was probably later, and in general none of the exterior details can be taken for granted.

Like several churches in the Downham Market area, St Michael does not welcome passing strangers. I have visited several times, and have never seen any mention of a keyholder, or seen any hint of an open door. Perhaps they think all churches in Norfolk are like that, but they're not. However, I am told that the churchwarden is happy to show people around if they contact him first - the details are on the Ely Diocesan website.

If you do get inside, you will see what John Salmon saw and photographed below. There are two early windows by the William Wailes workshop, and a fairly spectacular collection of memorials to the Pratt family, who owned the Hall. The church appears full of light, and very well kept.
Simon Knott, December 2010
The photographs below are (c)2010 John Salmon

Amazon commission helps cover the running costs of this site.
home I index I latest I introductions I e-mail I about this site I glossary
Norwich I ruined churches I desktop backgrounds I round tower churches
links I small print I www.simonknott.co.uk I www.suffolkchurches.co.uk