home I index I latest I glossary I introductions I e-mail I about this site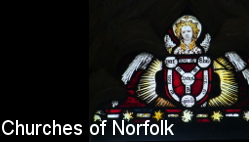 St Seraphim, Little Walsingham
Read the captions by hovering over the images, and click on them to see them enlarged.





St Seraphim, Little Walsingham

| | | |
| --- | --- | --- |
| | | This beautiful building is a chapel of ease within the Russian Orthodox Parish of the Holy Transfiguration, Great Walsingham. The Orthodox presence in Walsingham dates back to 1966, when the Anglican shrine dedicated one of its upstairs chapels to Orthodox worship. This ecumenical move needs to be seen in the light of the fact that at this time the state of relations between the Catholic and Anglican shrines was one of rivalry rather than co-operation, and in fact the chapel was not really suited to regular Orthodox worship. The following year, the Russian Orthodox Priest assigned to the Anglican shrine, along with three companions, set up residence here in the former railway station, establishing a religious community dedicated to the great 19th century Russian mystic, St Seraphim. The building is at the highest point in the village of Little Walsingham. |

The building's former use is still readily obvious, but it has been enhanced by a dome and a cross, and an icon of Christ in majesty above the main entrance. The residential building of the community have been built on the fomer platform, which judging by its appearance must have been rebuilt very soon before the station closed in the 1960s. Also on the platform is an icon workshop, icon-making forming the main business of the community here. Behind the building, the station yard is now the monastery garden, the vegetable patch stalked by noisy hens. It reminds me very much of small monasteries I have seen in Russia.

You enter a porch, and then step into the former waiting room, which forms the nave of the church. The interior is typically Orthodox, feeling at once timeless and ancient. The iconostasis screens the holy end from the main body of the interior, beautiful icons representing mystical windows. A lectern bears the icon of St Seraphim, and the icon of the day on high feast days. As with all Orthodox churches, the interior is relatively bare, with a single bench at the back for those unable to stand through the long Orthodox liturgies.

St Seraphim is no longer used for regular Sunday worship - that now happens at the Orthodox Parish church in Great Walsingham, consecrated in 1986 - but it still hosts the Liturgy on St Seraphim's feast day, and on other special holy days. However, it remains open every day, a witness for visitors to the other great Christian tradition of the world, a tradition that will always remain foreign to western eyes, but which seems perfectly at home among these remote, high-hedged Norfolk lanes.
Simon Knott, September 2007

Amazon commission helps cover the running costs of this site.

home I index I latest I introductions I e-mail I about this site I glossary
Norwich I ruined churches I desktop backgrounds I round tower churches
links I small print I www.simonknott.co.uk I www.suffolkchurches.co.uk