home I index I latest I glossary I introductions I e-mail I about this site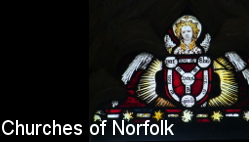 St Peter, Little Ellingham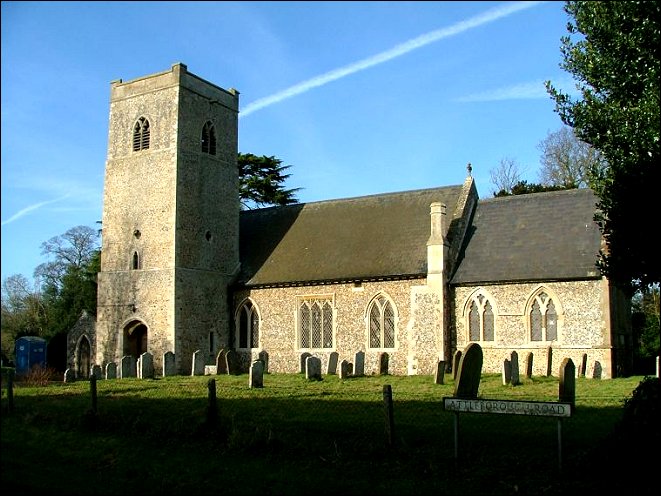 Read the captions by hovering over the images, and click on them to see them enlarged.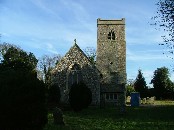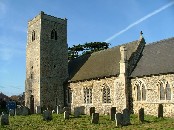 St Peter, Little Ellingham

Towers on the south side of the nave that form a porch into the church are more common in Suffolk than in Norfolk, but there is a 13th century one here at Little Ellingham, and another not far off at Wicklewood.

Many church towers were added to older churches, and, if you think about it, the south side of the nave is a sensible place to put them. It doesn't block light coming through a west window, and places the tower and the porch together; both had secular uses, and this arrangement doesn't interfere with the business of the church. Perhaps it should be a surprise that it didn't happen more often.

The nave and chancel have been rebuilt since, and there is a crispness to them that tells that you a big 19th century restoration also happened here. There was a good reason for it, because St Peter was destroyed by fire in 1867, leaving only a shell beside the tower. Everything you see here is either restored or new. A plaque above the entrance records the reopening, and also tells you that all the sittings are free, presumably a condition of some of the funding.

St Peter is a pleasant space to enter, full of light on this bright January day, and there are features of interest.

The font is quite startling, for instance. It is made of Poryphry marble, a striking glossy brown octagonal thing on pillars, which isn't totally in keeping with the otherwise rustic surroundings. The shiny tiles around it help to smooth its path, but you can't help thinking that somebody bought it off the shelf at the workshop of some London or Birmingham mason without really thinking about how it would fit in.

The east window, which is contemporary with the font, is good; it depicts scenes in the life of Christ in the style of the glass you find in French Cathedrals, and is very pleasing on this scale. I wonder who it is by?


Simon Knott, January 2006
Amazon commission helps cover the running costs of this site.
home I index I latest I introductions I e-mail I about this site I glossary
links I small print I www.simonknott.co.uk I www.suffolkchurches.co.uk
ruined churches I desktop backgrounds I round tower churches