home I index I latest I glossary I introductions I e-mail I about this site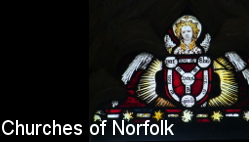 St Margaret, Kirstead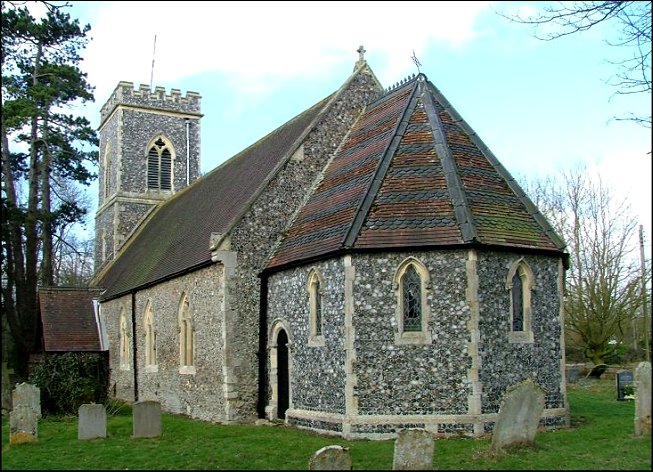 Read the captions by hovering over the images, and click on them to see them enlarged.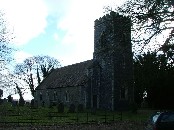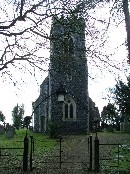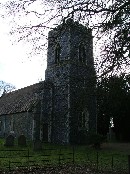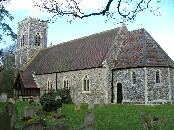 St Margaret, Kirstead

On this raw March day of sub-zero temperatures, this felt a bleak and remote spot. The skeletal trees shivered in the icy gusts, and St Margaret's narrow nave huddled behind the stark tower as if sheltering from the blast. But this must be a pretty spot in Summer, with the little church in its tree-lined graveyard sitting beside the old rectory.

Until the mid-19th century, this was a thatched church with a bellcote; a picture which hangs in the church is at the end of this article. But in 1864 it was almost completely demolished and rebuilt by the Kerrison family. The tower is new, the chancel with its octagonal apse is new, even the nave windows are new. The architect was Herbert Haywood. But the original 12th century south doorway survives, a reminder of what was here before.

You enter a church which is wholly Victorian in character, with tiled floors softened by blue carpets, a painted font, and the sweetest little 19th century benches in ranks along the walls. They face into the apse of the chancel with its three angled lancets, the overall effect from the west of the church being very successful; less so close-up, because the Crucifixion in the central light is rather poor.

There is at least one other survival of the earlier church, a ledger stone now mounted on the wall of the tower, recording the burial of several children underneath a family pew.

The most memorable feature of St Margaret is the range of high quality memorials lining the nave walls, all of them to members of the Kerrison family. The best of them is immediately beside the south doorway to Roger Allday Kerrison and his wife Adelaide Thorp, which depicts a weeping woman scattering roses on an urn and the inscription After Life's Fitful Struggle They Sleep Well.

The church retains the set of bibles and prayerbooks given at the time of its rebuilding, and these help to retain the special atmosphere of a Victorian rural church - you can almost sense the shepherds and cowhands sitting in their smocks, listening to the Word.

Simon Knott, March 2006
Amazon commission helps cover the running costs of this site.
home I index I latest I introductions I e-mail I about this site I glossary
Norwich I ruined churches I desktop backgrounds I round tower churches
links I small print I www.simonknott.co.uk I www.suffolkchurches.co.uk