home I index I latest I glossary I introductions I e-mail I about this site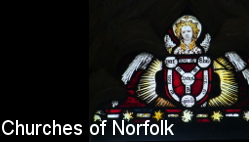 St Andrew, Hoe
Read the captions by hovering over the images, and click on them to see them enlarged.

St Andrew, Hoe

The labyrinthine Wensum valley hides lost villages in its nooks and crannies. One of them is Hoe, which is only a few miles from Dereham but is reached up narrow back lanes between high hedges. Hardly anyone can live in the parish. You wouldn't even think to look for it unless you knew it was there.

The quiet graveyard was full of bright sunlight when we visited, the tall grass baked on what would turn out to be the hottest day of the century so far. St Andrew is as secretive as its village, a difficult church to photograph because of the trees in the narrow graveyard. The capped tower is truncated to below the roof level of the nave, and all in all this church feels more like a long hall than an ecclesiastical building. On the south side, the graveyard drops away below the level of the base course, and the wall is made up with a flint sleeve below this level.

I liked the setting a lot on this lovely day. This was just as well, because we couldn't get inside. There is no reason for St Andrew to be kept locked, but there is a keyholder notice, and so we went to the tiny cottage which is just to the north-west of the church.

Well, the keyholder was out, as they so often are. I stood there, having pressed the bell, to hear it play loudly the full sequence of the Westminster chimes as rung out by Big Ben on the hour, which seemed splendidly out of keeping with the cosiness of the cottage and the remoteness of the lane. I pressed the bell two or three more times to hear it go through the sequence again, which didn't go far towards making up for the church being locked, but lightened my heart a little before we headed on to Beetley, knowing we'd have to come back one day.
Simon Knott, September 2006

Amazon commission helps cover the running costs of this site.

home I index I latest I introductions I e-mail I about this site I glossary
Norwich I ruined churches I desktop backgrounds I round tower churches
links I small print I www.simonknott.co.uk I www.suffolkchurches.co.uk