home I index I latest I glossary I introductions I e-mail I about this site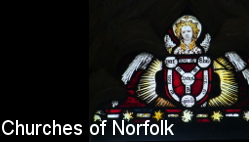 St Martin, Hindringham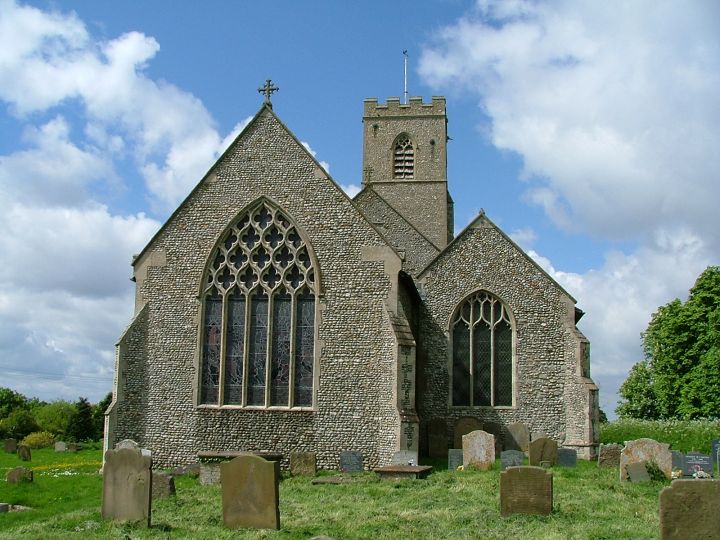 Read the captions by hovering over the images, and click on them to see them enlarged.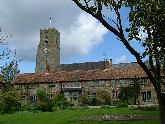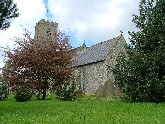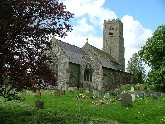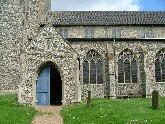 St Martin, Hindringham

Hindringham is a pretty village in an area of pretty villages; Binham, Wighton and Bale are all near at hand. The church stands tall behind a long line of red-roofed flint cottages. A wall separates the churchyard from the six foot drop to the road below, and generally this is a very prominent church. Looked at from the east, the design is a little curious.

The chancel is offset to the south against the nave, the east end of the north aisle cutting in. At first sight, you might think that this is a Victorian conceit, but it seems to be the result of the chancel weeping to the south so much - only Lamas is more so in Norfolk.

You step into yet another bright, wide interior, a reminder that these vast spaces were never meant to be full. Everything is restored in a pleasantly restrained 1870s manner, cleared of clutter and full of light - that vast Decorated east window certainly helps. It is an uplifting place.

Hindringham's 15th century font is similar to that nearby at Wighton, with a Crucifixion, Instruments of the Passion and a Holy Trinity symbol along with heraldic shields. Stepping into the brightness of the chancel, you can't help but be struck that it is pretty much wholly Victorian, though in a good way. The east window includes a sequence of the martyrdom of St Martin, very much in the 1870s style. All around, tiles gleam. All the more remarkable then is the ancient chest that sits there. Generally considered the oldest in England, it probably dates from the end of the 12th century. Astonishing.

Simon Knott, May 2005
Amazon commission helps cover the running costs of this site.
home I index I latest I introductions I e-mail I about this site I glossary
links I small print I www.simonknott.co.uk I www.suffolkchurches.co.uk
ruined churches I desktop backgrounds I round tower churches