home I index I latest I glossary I introductions I e-mail I about this site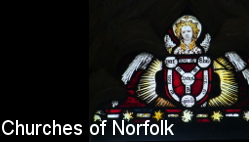 Christ Church, Fulmodeston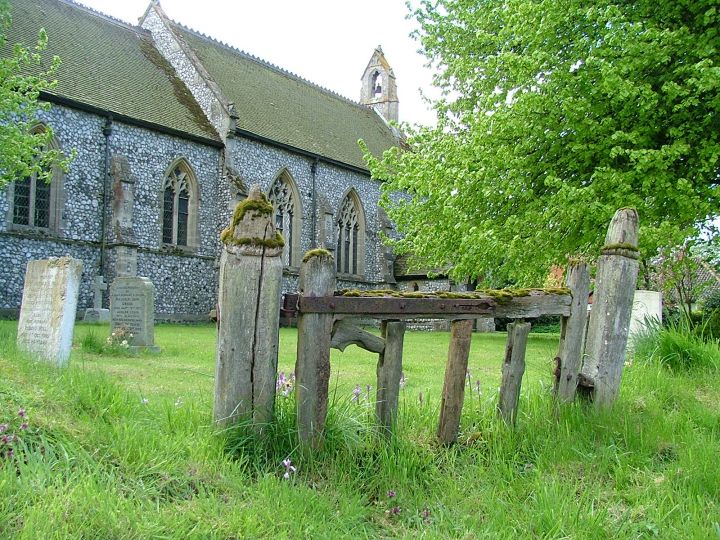 Read the captions by hovering over the images, and click on them to see them enlarged.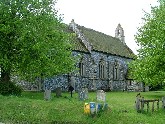 Christ Church, Fulmodeston

In the 1880s, the Rector of St Mary, Fulmodeston and St John the Baptist, Croxton found that he had two decaying churches on his hands, and so he abandoned them both, and built a new one halfway between the two at the village centre. The new dedication was to Christ Church, which rather suggests a low church motivation, and the architect was William Bassett Smith.

I approached it with some trepidation, because the neatly knapped flints of the exterior walls suggested that here was yet another wholly anonymous late 19th century building. So it was with some delight that I stepped inside to find that all the walls are lined with polychromatic designs in brick, and the east end is a tractarian delight with its gilt stone reredos and coloured glass. It is gorgeous.

The font is a Norman-style tub, topped with a hint of the absurd in the form of a ghetto-blaster - a service had just finished. The big windows allow light to fill this space, and in general I liked it a lot. I also liked the churchwarden, who was very friendly, chatting about churches round about, admiring their features but unable to conceal his pride in his own lovely bulding, which is just as it should be.

Simon Knott, May 2005
Amazon commission helps cover the running costs of this site.
home I index I latest I introductions I e-mail I about this site I glossary
links I small print I www.simonknott.co.uk I www.suffolkchurches.co.uk
ruined churches I desktop backgrounds I round tower churches