home I index I introductions I e-mail I about this site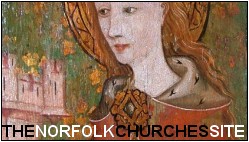 Holy Trinity, Diss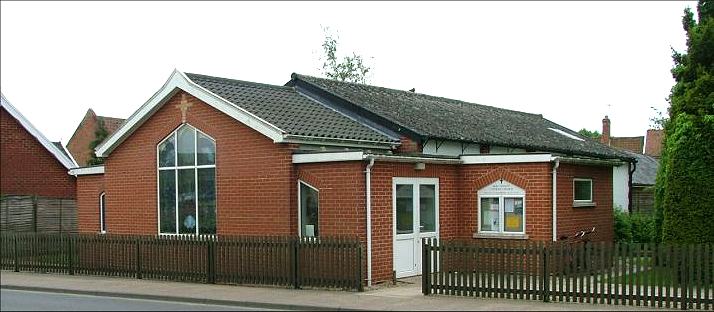 Read the captions by hovering over the images, and click on them to see them enlarged.
Holy Trinity, Diss

I like Diss a lot, and parts of this lovely hill-top town are as fine as anywhere in urban East Anglia; but parts of it are not, and the long, straight road that serves the railway station and takes the traffic through from Thetford to Yarmouth is one of them. At its western end it shakes off the warehouses, factories and other agro-industrial activity, entering a pleasant suburb that eventually becomes Roydon.

Here on the edge of town is the Catholic church of the Most Holy Trinity, a little brick-built post-war structure that is as plain and simple as the great Anglican parish church of St Mary on the hill is grand and beautiful.

You step inside to a modern narthex extension, the older body of the church stretching away to the east. There is no division between the two. A large west window floods the narthex with coloured light, an abstract design of the setting sun by a local retired doctor, the kind of folk art you only find in non-conformist and Catholic churches these days. The older east end is quite traditional and most attractive.

Like most East Anglian Catholic churches, Holy Trinity is much too small for its modern congregation, and amiable Parish Priest Simon Blakesley has to split them over three Masses each Sunday. Even then, it is standing room only, and the plan is to sell the site and move to a bigger church as soon as possible. As Father Simon points out, this is the most humble of all the Diocese of East Anglia's parish churches, having more the air of a chapel of ease, and the congregation are plainly worth something better. A couple of sites are being looked at, and although these are early days we can be sure that the new church will be bigger than this one. I hope they take that window with them, though.

Simon Knott, June 2005
Amazon commission helps cover the running costs of this site.
home I index I latest I introductions I e-mail I about this site I glossary
links I small print I www.simonknott.co.uk I www.suffolkchurches.co.uk
ruined churches I desktop backgrounds I round tower churches