home I index I latest I glossary I introductions I e-mail I about this site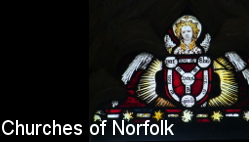 St Mary, Appleton
Read the captions by hovering over the images, and click on them to see them enlarged.

St Mary, Appleton

This beautiful ruined church sits above the road not far from the village of West Newton, near to the heart of the Sandringham estate. There was once a village, but it has completely gone, although it is said you can make out where the streets and houses were in the field to the north-east of the church after a dusting of light snow.

St Mary was a round-towered church, and it was a big, fat handsome tower, constructed of carstone and flint. The tower arch appears Norman, but the carstone banding of the tower suggests that it was early, possibly even pre-Conquest. An even stronger suggestion comes from the bell openings - like a gap-toothed smile now, but surely these were once triangular headed windows? If so, then this tower was certainly Saxon, possibly as early as 1000. The ruins of the tiny church against it show that this part of the building was much more recent, probably by about 300 years, presumably replacing a Norman church.

Until quite recently, St Mary was considerably overgrown, but it has been cleared and restored, perhaps as part of the Norfolk County Council project to preserve the best of the county's hundred- odd ruined churches, or possibly by the Sandringham estate. Whatever, you can now walk inside, and see the pretty arcade into the south aisle. Curiously, a porch appears to have been built into the aisle - or was the aisle demolished, and the arcade blocked up? Curious.

I pushed my way through the nettles to the east end, intending to turn and photograph the tower arch. I stumbled on a ridge, and, clearing the undergrowth carefully, found a 13th century coffin lid embedded in the ground, older than the ruin itself apart from the tower, and still waiting after all these years.

Simon Knott, July 2006
Amazon commission helps cover the running costs of this site.
home I index I latest I introductions I e-mail I about this site I glossary
Norwich I ruined churches I desktop backgrounds I round tower churches
links I small print I www.simonknott.co.uk I www.suffolkchurches.co.uk